What is LA Flex?
Local Authority Flexible Eligibility, typically known as LA Flex, is a branch of the government's Energy Company Obligation (ECO) scheme, with greater emphasis being placed on it in the latest phase of the scheme, ECO4. LA Flex gives councils and local authorities the power to set the eligibility criteria in their area for the ECO scheme. This means they can ensure as many households, who will truly benefit from funding for energy efficient home improvements as possible, can access it.
With this freedom, more residents, on top of those receiving benefits, can qualify for funding, usually on the basis of lower incomes, health, age, or area, meaning councils can better target specific communities. LA Flex can help households that are considered to be living in fuel poverty or those with a low income likely to be vulnerable from living in a cold home during the winter months.
Local authorities can utilise LA Flex to enable homeowners to access free grant for the installation of energy efficiency measures, like solar. However, this is unfortunately not an option for social housing tenants, you must be a homeowner or privately renting tenant to be eligible.
Who is eligible for the scheme?
Even though the criteria can vary from council to council, LA Flex is targeted at two groups of people who are on low incomes:
1) Those that are in fuel poverty – this is defined as households spending at least 10% of their net income on heating their home.
2) Those who are more vulnerable and at risk during cold weather including:
People with cardiovascular conditions
People with respiratory conditions
People with disabilities
People with mental health conditions or learning disabilities that lowers the individual's ability to look after themselves (including those with dementia)
Older people (age 65 and over)
Households with young children (0-5)
Pregnant women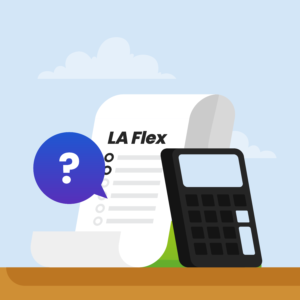 How does the scheme work?
LA Flex in ECO3
Under the terms of the third variation of the Energy Company Obligation scheme, energy companies were permitted to use LA Flex to fulfil up to 25% of their obligation. This means that the route to funding was more important than in the previous phases of the ECO scheme.
LA Flex in ECO4
Due to the success of LA Flex during ECO3, it has been confirmed that flexible eligibility will remain active when the fourth and last version of ECO is introduced later on in 2022. Also, through the terms of the new ECO4, energy suppliers will now be able to provide up to 50% of their obligation via LA Flex, which is double the amount that was previously allowed.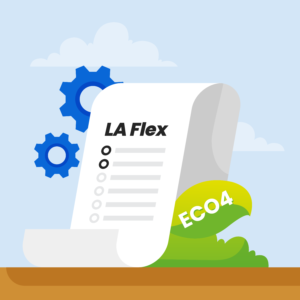 What is the process for LA Flex to secure ECO funding?
Local authorities play a key role when it comes to accessing ECO funding through LA Flex. Although partners like managing agents and installers are able to assist with access to funding in general, when it comes to LA Flex, there are multiple steps that only the local authorities can carry out. Local authorities are required to publish a Statement of Intent (SOI) outlining the eligibility criteria for residents to be eligible for ECO funding via LA Flex.
When customers indicate an interest in funding, and evidence of their eligibility has been collected, a signed declaration by the local authority needs to be sent to the relevant energy company (who are obligated to provide funding for the ECO Scheme) alongside any documents confirming eligibility. The signed documentation should then be passed to accredited ECO installers for the funding to be released This information is required has to include the name, address, and unique reference number relating to the customers.
Contact us today to find out if you could qualify for solar panel funding through LA Flex or ECO4.