Did you know that there are free grants for low-income families in the UK that you could be entitled to?
Cost-of-living payments are increasing across the board, and few measures are being made for low-income families. Energy bills in particular are most affected, almost doubling in a single year. In response, the government has been creating schemes to give out UK-wide grants with the intention of both easing the burden on struggling families and reducing carbon emissions nationwide.
| Grant | Description | Status |
| --- | --- | --- |
| ECO 4 | Gives grants based on a home's energy efficiency with the goal of reducing carbon emissions nationwide. | Available |
| British Gas Energy Trust | This is a charity set up with the aim of helping those suffering from fuel poverty. Grants help on a case-by-case basis. | Available |
| Health Through Warmth | This is a scheme made for people struggling with both fuel poverty and have health problems that worsen as a result. | Available |
| EDF Energy Trust | This is a charity that provides grants and other forms of financial assistance for those who are suffering from debt relating to energy bills. | Available |
| Home Improvement Agency | This organisation primarily provides advice and support for older, disabled or vulnerable people, but they have also been known to give out grants. | Available |
| Family Holiday Association | This programme gives out grants to young people, primarily students, who are on low income and cannot pay energy bills. | Available |
| Green Homes Grant | The Green Homes Grant once gave out financial assistance to homeowners looking to raise the energy efficiency of their homes through home improvements. | Unavailable |
| Renewable Heat Incentive | This was a scheme designed to push the popularity of renewable energy by providing financial support to those who installed them. | Unavailable |
| Boiler Upgrade Scheme | This scheme provides financial support to households with old, inefficient boilers with newer ones that have better efficiency. | Available |
| Household Support Fund | This scheme provided financial support to households suffering from the cost of energy bills, and is administered by local authorities. | Unavailable |
One example of these schemes is the Energy Company Obligation (ECO) scheme.
The Eco Scheme – What is it, and how does it help your energy bills?
ECO4 is a government scheme consisting of a set of home improvement grants given to low-income families across the UK. It does this by mandating that the largest energy companies will have to give out these loans and grants on a means-tested basis, meaning only the lowest-earning families will have access to them.
Whilst it provides these free grants for low-income families UK, the main goal is to cut down on carbon emissions nationwide. It does this by providing energy-efficient home improvements that reduce energy loss and consumption, with the decrease in energy bills being the main draw. If you've been around your local authority, you may find that you've seen them pushing ECO4 in their bid to help low-income families.
ECO4 offers the following home improvements:
Heat Pumps
Solar Panels
Insulation (Walls and Loft)
Which low-income families are eligible for ECO4?
There are two main ways to get a hold of these grants – meeting certain income eligibility criteria and having a low-energy performance rating.
First, let's talk about the income eligibility criteria.
Income Eligibility Criteria
Means-tested benefits are the most common metric determining who will have access to these installations, as each of them is considered a form of low-income support, making you automatically eligible.
The following benefits are listed as being accepted by ECO4:
Universal Credit (UC) – Universal Credit is one of the most common means of income support given by the benefits office, overriding a wide net of benefits.
Income-related Employment and Support Allowance (ESA) – Employment and Support Allowance has been effectively overwritten by Universal Credit.
Income-based Jobseekers Allowance (JSA) – JSA has been effectively overwritten by Universal Credit.
Child Tax Credits (CTC) – CTC has since been overwritten by Universal Credit.
Working Tax Credits (WTC) – WTC has since been overwritten by Universal Credit.
Warm Home Discount Scheme Rebate
Pension Credit Guarantee Credit – Pension Credit Guarantee Credit is a benefit for those who reach pension age and have a low income.
Pension Credit Saving Credit – This pension credit is a lot like the previous one, only it rewards those who have savings set aside for their retirement.
Income Support (IS) – Income support allowance has since been overwritten by Universal Credit.
Child Benefit (depending on your household income) – This has been overwritten by UC.
Housing Benefit – This has been overwritten by UC.
Alternatively, you need proof that you earn below the income threshold, which is £30,000 per household. Households below this amount are considered in financial hardship and are given access to ECO 4 as a result.
Energy Performance Certification Assessment
An Energy Performance Rating dictates the level of energy efficiency a house has. This is determined via an inspection of your household by a domestic energy assessor, who will collect information on:
Building Construction
Insulation
Heating and Cooling Systems
Lighting
Appliances
They will then analyse the data along with the age and size of the building, along with what type of heating and cooling systems are within.
Afterwards, the property will be given an EPC, and an Energy Performance Certificate, rating the energy efficiency of your property on a scale of A-G, A being the most efficient and G being the least efficient.
In order to qualify for ECO4, you need a performance rating of at least E-G, as these are the biggest offenders in carbon emissions from the home.
What home improvement measures lower my energy bills under ECO4?
There are three grants that exist within the ECO4 scheme. These are:
Insulation Grants
Heat Pumps
These energy-efficient grants have been proven to lower energy bills across the nation, with one of them even acting as a possible profitable side venture. We will go through each of them below.
Insulation Grants
This grant focuses on insulating your home, thereby reducing the amount of heat that escapes. The less insulated a home is, the more you're spending to replace heat lost. Therefore, trapping heat means that you'll spend less:
Loft Insulation – Your loft is insulated by laying down rolls of insulating material, such as wool, cellulose or natural fibres, between and over the joists within the attic space. When your heat rises, the insulation slows the escape by up to 25%.
Cavity Wall Insulation – Cavity walls are walls with a space between them. By putting insulation material, usually wool, foam or polystyrene beads, inside the gap, you can reduce the amount of heat lost through your walls by 35%.
Solid Wall Insulation – Solid wall insulation works by applying an insulating material to either the inside or outside of your home. This type of insulation can stop up to 45% of heat from escaping through the walls of your home.
Floor Insulation – Although heat rises, it can travel downwards through a process known as conduction, where some heat naturally drifts to cooler areas. Floor insulation can block up to 15% of this, however.
The following figures are taken from EnergySavingTrust.
| Insulation Type | Amount Saved |
| --- | --- |
| Loft Insulation | £215 |
| Cavity Wall Insulation | £145 |
| Solid Wall Insulation | £260 |
| Floor Insulation | £60 |
Heat Pumps
Hot pumps takes heat from the ground, air, or water, and transfers it into your home to warm up indoor spaces or even water. Here is a rundown of the three types:
Air Source Heat Pumps – The most common type of heat pump, which extracts heat from the air for use indoors. Air source heat pumps take already existing heat from the air and transfer it into the house.
Ground Source Heat Pumps – This is probably one of the more efficient heat pumps out there, due to their ability to be used throughout the year. Ground source heat pumps circulate a fluid underground, generating heat for use in the home.
Water Source Heat Pumps – Water Source Heat Pumps extract heat from water sources such as lakes, rivers or oceans. It compresses this fluid to increase its temperature, then takes that temperature into your home.
| Heat Pump | Amount Saved |
| --- | --- |
| Air Source Heat Pump | £50 – £440 |
| Ground Source Heat Pump | £870 – £1330 |
| Water Source Heat Pump | £540 – £880 |
Solar Panels
Solar Panels act as an alternative way to generate electricity other than the national grid. It does this by drawing in energy from the sun's rays. When it does, it converts that energy to the standard type we use for electricity (Direct Current Electricity). It can then be used to power your home or even store within batteries.
A typical solar panel system can generate up to 40% of a household's electrical needs throughout the year. According to energy savings trust, this means you can save up to £120 a year on energy bills.
Each of these measures has been a great family support, allowing them to focus on priority household costs.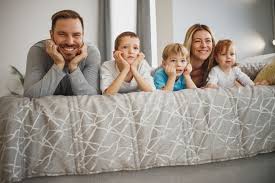 Additional Free Grants for Low-Income Families UK –
None of the following is included under ECO4, but is still worth investigating if you're having trouble with your energy and cost of living payments. The first place to start whilst searching for way to access these is by visiting your local authority, who often push ways to help low income families.
British Gas Energy Trust
Support for families could be available through the British Gas Energy Trust. This aims to prevent fuel poverty and help vulnerable households stay debt-free. In certain circumstances, they can also offer funding for people on certain benefits to be able to afford basic needs.

Other energy suppliers will typically have their own scheme to offer support to customers who could be facing difficulties paying their energy costs. Ask your local council for more infomration.
Health through Warmth
This initiative was set up by npower to help vulnerable individuals in England and Wales who have long-term, cold-related illnesses and need support to fund and install heating systems and insulation in their properties.
EDF Energy Trust
This trust aims to help families and people living in poverty, or who cannot pay for their gas and/or electricity. They offer grants to clear those debts. Also, the trust provides help through Further Assistance Payments to get rid of other important household debts or to buy essential household items.
Home Improvement Agencies
You may also be able to find Home Improvement Agencies (HIA) – the network of organisations that aim to help people live independently in their own homes – that provide their own support grants. HIAs handle over 200,000 requests for support each year, particularly from the vulnerable and elderly.
Family Holiday Association
This programme awards grants to students and young people from low-income families so they can access education grant schemes if you are finding it difficult to pay other vital household costs whilst you are also pursuing educational ideals.
If you need support with housing, you can apply for a discrete housing payment from your local council to pay for housing costs.
Why are low-income grants for heating so important?
A lot of families nowadays are finding it difficult to pay for essential household items and that's before we even mention paying the ever-rising energy costs. Being able to keep your home sufficiently warm when you need it will help to prevent a number of cold-related illnesses, which are a serious risk in vulnerable individuals and those with physical and learning disabilities.
This funding for low-income families with disabilities can aid those who are in receipt of disability rebates and may have financial challenges to avoid fuel poverty without the extra burden of budgeting loans, which usually need to be paid back with interest.
At Solar-Grants, we believe energy efficient homes should be a right, so that people can be free to pursue their educational and employment ambitions. Its worth visiting your local council to see what they can offer, from new grants to interest free loans.
What other energy grants have been introduced for low-income families?
The Green Homes Grant
The aim of the Green Homes Grant scheme was to incentivise installing energy efficient heating methods in fuel-poor households. It meant homeowners and landlords could apply for vouchers to contribute to, or cover, the cost of putting in place low-carbon and energy efficient home improvements. This meant that households could then save up to £600 a year on their bills. This was one of the more popular local council support schemes pushed.
The scheme is now closed to new applicants as of 31st March 2021. However, if an eligible application was approved prior to the closing date, the government would provide a voucher that would pay for two-thirds of the costs of fitting the new heat-retaining measures. In most cases, the maximum amount the voucher could cover for new installations was £5,000.
Although, there was the possibility for low-income families to receive a higher level of funding if you were a homeowner or someone living in your property was claiming a qualifying benefit. In these situations, this funding would normally cover the full cost of fitting the energy efficient measures and the maximum value of these vouchers was £10,000. Landlords were not allowed to apply for this extra level of funding.
It is important to keep in mind that if you were a successful applicant and received a voucher, be sure to redeem it and get your new installation completed as soon as possible before the voucher expires.
The Renewable Heat Incentive (RHI) and the Boiler Upgrade Scheme (BUS)
The RHI scheme has been closed to new applicants since March 2022 and has since been replaced by the BUS in May of the same year. Both schemes have the goal of reducing carbon emissions by installing more energy-efficient systems in domestic households.
The Renewable Heat Incentive was introduced in 2014 and encouraged the installation of renewable energy systems like heat pumps and solar heating with funding of £7,000 divided into quarterly payments over a seven-year time frame. The specific amount each participant received through the scheme was based on multiple factors including the type of system installed, the tariffs available, and in some cases, metering.
Discontinued as of 2022
The Household support fund
The household support fund was one of the hardship funds that was introduced in 2020, specifically during the COVID-19 pandemic. It offered a way for struggling households to pay off energy costs that they couldn't keep up with as a result of being out of work or simply using more than usual. Proof of low income, or even being on benefits. Every local authority was pushing the support fund in their local council.
Unfortunately, the time limit of the household support fund was since expired.
For any extra help, make sure to visit your local council.
Contact us today to check your eligibility for grants for solar panels for low-income families.